Whether you're a rookie or a pro, we can help you network better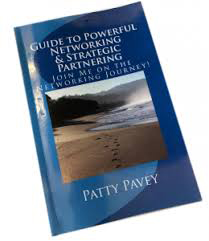 To many, networking is a mystery. But, networking is simply building your sphere of influence and contacts. It can even be finding strategic partners to help push your professional goals forward. Learning how to network is one of the most common requests Patty Pavey of Today's the Day Coaching and author of "Guide to Powerful Networking & Strategic Partnering" receives from professionals.
Patty creates and facilitates several networking workshops as well as sponsors several networking groups across the state. She also works with individuals and business professionals to assist them in improving their networking skills.
Below you'll find some of the networking events she offers.
Networking 101: From Fear to Fun
This session sets the groundwork for successful basic networking while polishing the skills needed to network successfully. (90-120 minutes)
Networking with an Edge
Creating powerful strategic partners is key to business success. This session will teach you how to successful make and maintain relationships. (60-90 minutes)
Success from Events
You'll leave this session knowing how to make the most of an event, from knowing the right questions to ask to how to make an exit. (60 minutes)
Cards, Cards, and More Cards ... Now What?
A collection of business cards doesn't help you unless you know what to do with them. This session leads you through the art of the follow-up. (60 minutes)
From the Booth to the Bank
From set up to working the crowd, this session will show you how to make the most of your vendor space. (60-90 minutes)
B&B Networking: The Buzz of Business
This program is a fun, educational, active and energizing opportunity for businesses to interact and start the relationship piece of networking. (20-50 people, 90-120 minutes)
Get started
Is today your day to make positive changes in your life? If so, Today's the Day Coaching and Hypnosis can help!